I just got an email from Graze and it looks like they're expanding memberships!

"Hi Kara,
Great news - we're here! The new graze kitchen is now open…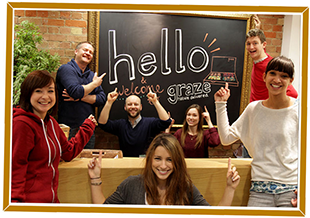 As a thanks for being one of our first US grazers we've given you a new invitation code. It's called friendcode and allows you to invite up to 4 friends to join graze (so they will stop stealing your snacks)."
My friendcode can be used by up to four people, but it's the same for everyone, so I'm just going to post it here. I will edit the post ASAP if all of them get used.
Graze has been nearly impossible to get into these past few months, so it's great that they are expanding! It looks like they have finally added some new recipes too--key lime pie and jalapeno fiesta are being advertised. Yum!!
Boxes are only $5 each (including shipping) and you get four single-serve snacks. You can get boxes weekly, but it's super easy to set it to bi-weekly or monthly (or skip huge periods of time altogether). Not to mention you can tell Graze how much you want a snack, which means this is wonderful for people with dietary restrictions. I highly recommend at least trying it out!
ETA: Codes are now claimed! Thanks!